The Minister of Finance Ken Ofori-Atta has reiterated that securing the International Monetary Fund (IMF) programme is not an end to Ghana's current challenges.
He said the programme has significantly paved the way for the implementation of an ambitious and well-thought-out programme of reform for our economy and country.
"In fact, the real work of adjustments, re-alignments and the return to a path of steady economic growth has just begun," he said while providing updates on the deal at a press encounter on Sunday.
The approval was secured on Wednesday, May 17 with the first tranche of $600 million received.
The Finance Minister stated that "Let us brace ourselves for the needed reforms, especially in expenditure control, non-arrears accumulation, revenue growth, ECG collections and Energy Sector reforms, in order to rebuild the walls of the Republic with urgency.
"That said, our reform programme, the Post COVID-19 Programme for Economic Growth
(PC-PEG), now supported by the 3-year Extended Credit Facility arrangement with the
IMF, is built on clear targets and strong policy and structural measures."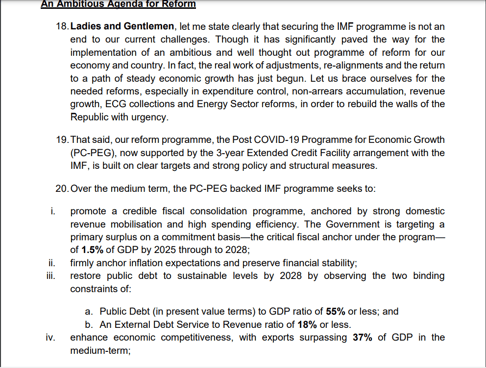 Source: 3news.com